A Garbage Hauling Business is Born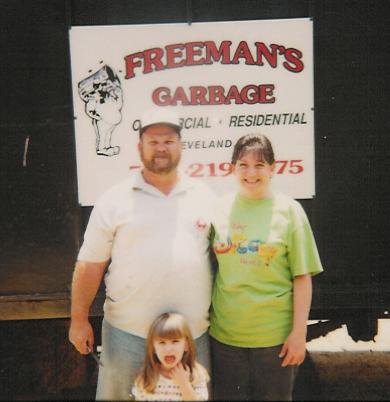 Joe & Elisa started their business in 1993 with a pickup truck on weekends while still maintaining full time jobs elsewhere. After building their clientele, the business became a full-time job for both of them. In 1995 they opened and operated (for 2-1/2 years) the first recycling center in this area. They were the first privately owned garbage company in this area to provide roll-out carts to their customers forcing other companies to follow their lead.
You might say that Elisa grew up in garbage. Her father was a garbageman or "Sanitation Engineer" as he would say! He retired from the New York City Sanitation Department in 1972 after 25 years. Her father also served in the Army during WWII receiving the purple heart for his battle injuries. In honor of Vinny, we offer a discount to those who have also served in the military.
Joe's brother was a dedicated police officer for the City of Cleveland for many years. After a battle with cancer, he passed away in September, 2000. In honor of Eddie, we offer a law enforcement discount.